Rajasthani Embroidery Tradition
Embroidery techniques and styles in India differs region by region. There are dozens of methods based on different clothing styles. Rajasthan, as the name suggests, was conglomeration of princely states. One thing that was common over whole state was their love and devotion towards art. 
Traditionally, Rajasthani Embroidery was performed on cotton, silk, or velvet that includes variety of fine stiches. The most common designs includes floral, geometrical and mythological. Rajasthani local residents used to beautify their clothes and articles of daily use with Rajasthani embroidery made of motifs and stiches. The tradition is still passing through generations.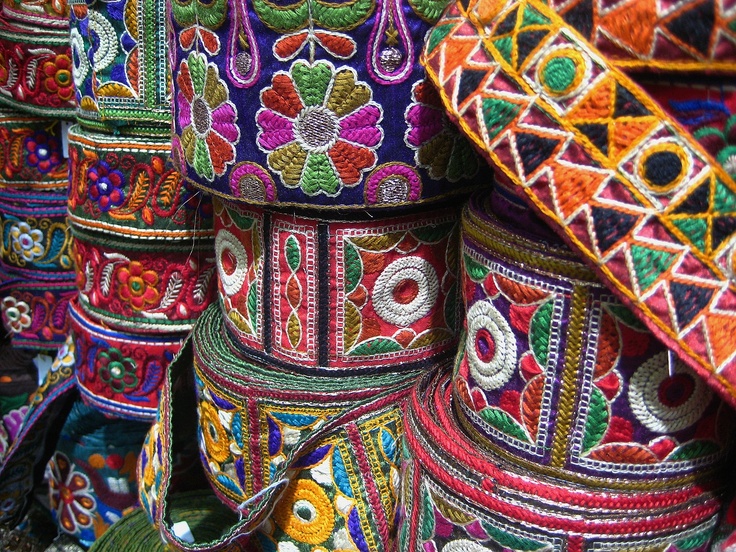 Rajasthani Embroidery Techniques
Rajasthani Embroidery techniques vary in each district of Rajasthan.  The most famous ones are Mochi Bharat, Appliqué work, Heer Bharat, and beadwork. Embroidery practiced in the princely cities of Jaipur and Jodhpur is Court embroidery. These Embroidery are performed on marriage costumes, quilts, bags, cradle clothes, and wall hangings. The needlework is further enhanced by the use of pearls, beadwork, mirrors, sequins, buttons, shells, and other things derived from the nature. Checkout our store to purchase authentic handmade Rajasthani bags and purses.
Rajasthan is known in the world for its Embroidered articles. Most of the embroidered articles sold all over the world came from Rajasthan and are made by local Rajasthani women. Embroidery is a centuries-old skill of Rajasthan that makes it a world-famous attraction. Below is the list of popular embroidery techniques that originated from Rajasthan.
1) Mirror Work
The method came from Persia which involves use of small pieces of mirror of different sizes to decorate fabric. Traditionally pieces of mica was used in place of mirror but then people started using blow glass little pieces. Until recent times, Articles with mirror work were made by hand that were irregular with minor mirror and sequins losses. But now many machine made embroidered articles are in market. Find out here the difference between hand embroidery and machine embroidery. Mirror work from Rajasthan is famous for cushion cover, ethnic wears, bedcovers, hangings, bags and purses.
2) Mochi Bharat
Mochi Bharat is originated from the Barmer district was originally developed to beautify leather objects like shoes and animal sandles. "Mochi" is the Hindi translation of the word cobbler. Decades ago, cobblers used to ornament shoes using fine chain stitching on the leather which then gradually adopted by weavers to decorate stuff. Mochi Bharat Embroidery is performed on silk or cotton untwisted thread called Pat. The embroidery design is highlighted by taking a bright color on the surface for contrast. Rajasthani artisan uses a needle which is called Ari that has an incision on top to make a hook. Chain stitch is performed by repeating hooks and pulls to form an outline.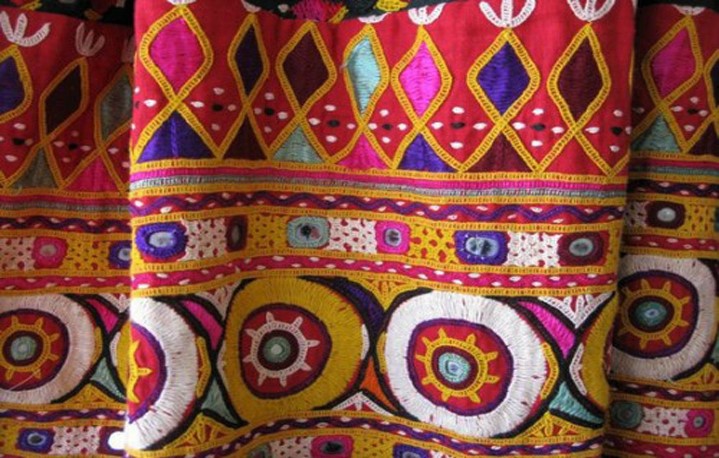 3) Heer Bharat
Heer Bharat embroidery technique involves extensive use of thread work. It is performed by button hole stitch or double satin stitch. This art resembles with embroidery of Kutch, Kathiawar, and Haryana. It is called Banni embroidery in Gujrat, where it originated. Heer Bharat is known for its premium design, richness, and princely look. The term Heer means a silk floss which is called as heer in local cities. Embellishment is made by motifs of geometrical shapes, flora, and fauna. Heer bharat is greatly praised Rajasthani embroidery because of beautiful mirror work with pearls on bright color surface mostly yellow, red and pink.
4) Gota Embroidery
Gota Embrodiery often called Gota Patti Work, Gota kinari work or Lappe ka kaam is a kind of metal embroidery having roots from Rajasthan. Gota work involves elaborated patterns which are made by applying applique sewing technique with metals like gold, silver and copper. Gold and silver color ribbons are used to create different shapes and motifs which are then stitched on fabric. Bikaner, Jaipur, Udaipur and Ajmer are the places where one can find the master craftsman's for Rajasthani Gota Embroidery.
Check out our collection of Ethnic Embroidery bags, we deal in Potli bags, Sling bags, Clutches, Handbags, and purses. All our articles are 100% Swadeshi and are handmade by talented Rajasthani artisans. Check out our online store here RAJASTHANI BAGS.